I am very happy to review this fabric mask that I just tried and was very curious to test on myself.
I am fond of Masks of all kinds, mine is a real fixation that started at a very young age when I was slathering my face and body every day, even though, honestly, I had very little need for them at the time!
I love taking care of my facial skin, and the mask is one of my favorite skin care steps because, as a beauty ritual, it always gives the most immediate results if the products we choose are the right ones for our skin and of great quality.
Until a few years ago, masks were reserved for beauty treatments to be done in the salon or were marketed by the more niche luxury brands such as Estée Lauder, Carita, Shiseido, then slowly spread to more commercial brands such as Nivea, Garnier, and L'Oreal.
In recent years, masks of all kinds with very special formulations have made a comeback thanks to so-called Korean skin care, which provides for their daily use.
I ordered this product intrigued by the on the site from which I have been buying all the supplements I use for many years; given the formulations rich in active ingredients and the very favorable prices ( just think that this mask costs only €1.74) I am also trying their hair, face and body care products.
I am discovering creams and many other interesting novelties, for skin care and many formulas for all your aesthetic needs, a wonderful world made of brands one more interesting than the other both for the ingredients they use and for the innovative formulas full of actives such as amino acids, vitamins, peptides, very difficult to find in the products we commonly find in perfumeries.
First impression of the "Collagen" mask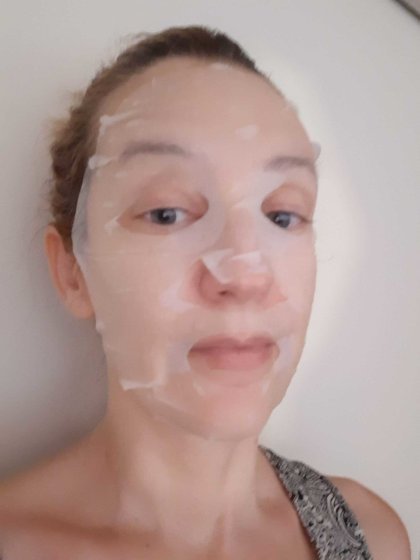 I applied this mask one evening when my face was particularly tired from a tiring day, the tiredness in me immediately showing on my face with dull skin and pulled features.
The mask is so well soaked in the product that it is very well adhered to the skin of the face and neck but not too much so that it does not run or slip.
Compared to other pre-shaped fabric masks this one has the perfect size for my face without being too big or too small!
Properties and INCI face mask It's skin
The It's skin formula Collagen face mask comes in a very minimal white package, is a very soft fabric disposable cotton sheet face mask soaked in collagen extract that is ideal for those with dehydrated and tired skin and is formulated precisely to restore the skin's natural elasticity and increase hydration.
INCI
Water, Dipropylene Glycol, Glycerin, Caprylic/Capric Triglyceride, Hydrolyzed Collagen(1000ppm), Arctostaphylos Uva Ursi Leaf Extract, Saussurea Involucrata Extract, Methylpropanediol, Propanediol, Hydroxyethylcellulose, Carbomer, Arginine, Sorbitan Stearate, Sucrose Cocoate, Sorbitan Sesquioleate, Disodium EDTA, Chlorphenesin, Glycyrrhiza Glabra (Licorice) Root Extract, Zingiber Officinale (Ginger) Root Extract, Schizandra Chinensis Fruit Extract, Coptis Japonica Root Extract, Camellia Sinensis Leaf Extract, Caprylyl Glycol, Butylene Glycol, 1,2-Hexanediol, Citrus Grandis (Grapefruit) Seed Extract, Acorus Calamus Root Extract, Perilla Ocymoides Leaf Extract, Fragrance
Where to buy this it's skin face mask ? 
Product rating: a solid 9!!!
Final considerations and advice
I liked this product so much that, as it was the first one I ever tried belonging to this brand.
https://itsskin.com/us/main/index.php made in Korea, I would like to try more of their products, both the other masks in this same line, which, in addition to collagen, also has as active ingredients: hyaluronic acid, aloe, green tea, as well as other preparations such as serums (I am particularly curious about the one with coenzyme Q10), face creams, eye contour, and essences.
Super promoted this mask, I will definitely buy it again with my next order and I will also take the opportunity to try the other products of the same It's skin that I like for being attentive to formulations rich in super effective active ingredients.
And have you ever tried Korean beauty masks or this It's Skin face mask?
Keep following us on our social channels and Wellnessere.com Blog to find out all the upcoming beauty and wellness news!