I am finishing this product from Geomar for the second time and have been using it as my cleansing milk for a while now, and I must say I am very pleased with the results.
I have very delicate combination skin, dry in some parts and oily in others and very reactive to cleansing products that are too harsh.
Among cleansers of this type, based on plant extracts, this one from Geomar is among my favorite.
The product, in its 200ml package, even if used twice a day, will last quite a while in your bathroom cabinet because you really only need a small amount on a bit of cotton to remove skin impurities in the morning and to remove makeup residue in the evening.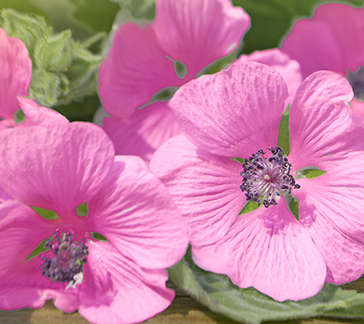 The formulation is free of parabens, silicones, dyes and mineral oils and is based on organic marshmallow flower
used for its strong calming and soothing properties and based on organic almond oil to bring moisture and deep nourishment to the skin.
As we can see from its INCI, it is formulated with 95% of naturally derived ingredients:
_______________________________________________________________________
Aqua (Water), Caprylic/CapricTriglyceride, PrunusAmygdalus Dulcis Oil (PrunusAmygdalus Dulcis (Sweet Almond) Oil), Polysorbate 20, AlthaeaOfficinalisRootExtract, Calendula OfficinalisFlowerExtract, Malva SylvestrisFlower/LeafExtract (Malva Sylvestris (Mallow) Flower/LeafExtract), Maris Sal (Sea Salt), Tocopheryl Acetate, Glycerin, Polysorbate 80, Carbomer, Acrylates/C10-30 AlkylAcrylateCrosspolymer, SodiumHydroxide, DisodiumEdta, Parfum (Fragrance), Ethylhexylglycerin, Phenoxyethanol.
_____________________________________________________________
It has a very rich consistency similar to that of a cream in fact I happen to apply it without the cotton by massaging it directly into the skin and then rinsing it off with warm water.
After its use, the skin remains moisturized and cleansed without either weighing it down or making it too dry.
It is certainly more suitable as a cleansing milk than as a makeup remover, in fact that is how it was conceived by Geomar, however, I was curious to see if it was also good for removing foundation and eye makeup.
In my experience, Geomar Soothing Cleansing Milk succeeds very well in cleaning the skin of makeup, but to remove eye makeup, it is preferable to use a special product because this one is too full-bodied and leaves some traces of pencil and mascara.
The positive note in using it as a face makeup remover is that it has not given me any problems with intolerance, redness or burning even in very delicate areas such as around the eyes.
I promote it with flying colors and will definitely try the other products in the Geomar line as well, hoping to find myself equally well with all the components designed for the complete Geomar facial program.