We know that autoimmune rheumatic diseases are among the most insidious and difficult to treat, and that any kind of traditional drug treatment has unsatisfactory results and very often full of very heavy side effects.
For years, however, there has been a different drug therapy than those usually used but, to learn about it, one has to go overseas, to the U.S., or get in touch with the communities that refer to the Road Back Foundation, a community that for years has been dealing with the treatment of different types of rheumatic diseases through the use of antibiotics.
The Foundation has a forum https://www.roadback.org, where you can read many testimonies and useful documents for treating patients of all ages, to which a very interesting and active Facebook group has been added https://www.facebook.com/groups/682294308948252/?ref=share
The Road Back Foundation is the worldwide reference of the late, great Dr. Thomas Mcpherson Brown (1906-1989) a rheumatologist who, during his career, successfully treated severe cases of rheumatoid arthritis, scleroderma and lupus through antibiotic therapy.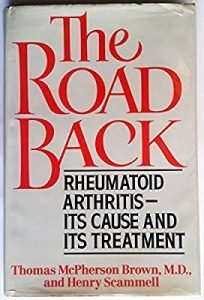 His desire to help patients regain their freedom and health led him over the years to delve deeper into the causes of the diseases in question. While almost all doctors generally speak of an autoimmune cause, or unknown etiology, in this matter Dr. Brown was a pioneer because, for the first time, he isolated "mycoplasma" from the synovial fluid of a patient suffering from arthritis.
His research was published in Nature in 1939 and was the beginning of a long practice of using antibiotics to treat connective tissue diseases.
"was the first physician to isolate mycoplasma from the fluid of a joint of a patient with arthritis. His research was published in Nature in 1939, and this began his lifelong commitment to using antibiotics for treating collagen diseases."
https://whitakerwellness.com/health-concerns/arthritis-treatments/rheumatoid-arthritis-treatment/
All books, papers, research and useful materials on Dr. Brown , an enlightened physician, his disciples and protocol are in English. There are a number of doctors in the world who follow him and refer to the Foundation itself
In Italy, a few years ago, two had made themselves available as the Foundation's referrers, for our country, but later, unfortunately, I learned that they no longer follow patients.
I know, either from reading their stories or from reading Dr. Brown's book and the book of a lady cured of scleroderma, thanks to antibiotics, many stories with happy endings.
Even in my own recovery from autoimmune rheumatic disease, I followed this approach (I point out for the sake of the record, that it was not the only one I underwent) and the results were there, thanks to God and those who encouraged me, and helped me overcome any kind of prejudice toward therapies not followed by the Italian medical establishment.
I hope that more and more people will become well informed about this type of approach and that physicians will also work to help those suffering from these debilitating problems.
They only need to study the protocol, which already exists and has been tested on dozens of people, and apply it to actual cases.
I hope that my contribution, through this blog article, will reach as many people as possible, thanks also to the shares of my regular readers or visitors who happened to cross their path with mine.
My thanks to all of them for reading this information and following me.
Lucia